Overview of TTP's Film Faced Plywood factory
- Film Faced Plywood is a special plywood coated with wearable and water-proof phenolic film which protects the core from moisture, water, weather and extend the plywood's life. TTP is the exclusive distributor of Film Faced Plywood Duc Lam logo.
MANUFACTURING PROCESS OF FILM FACED PLYWOOD
1. SELECTING CORE VENEER
- The veneer we use is peeled from acacia and eucalyptus logs with 8-14 years plantation forest.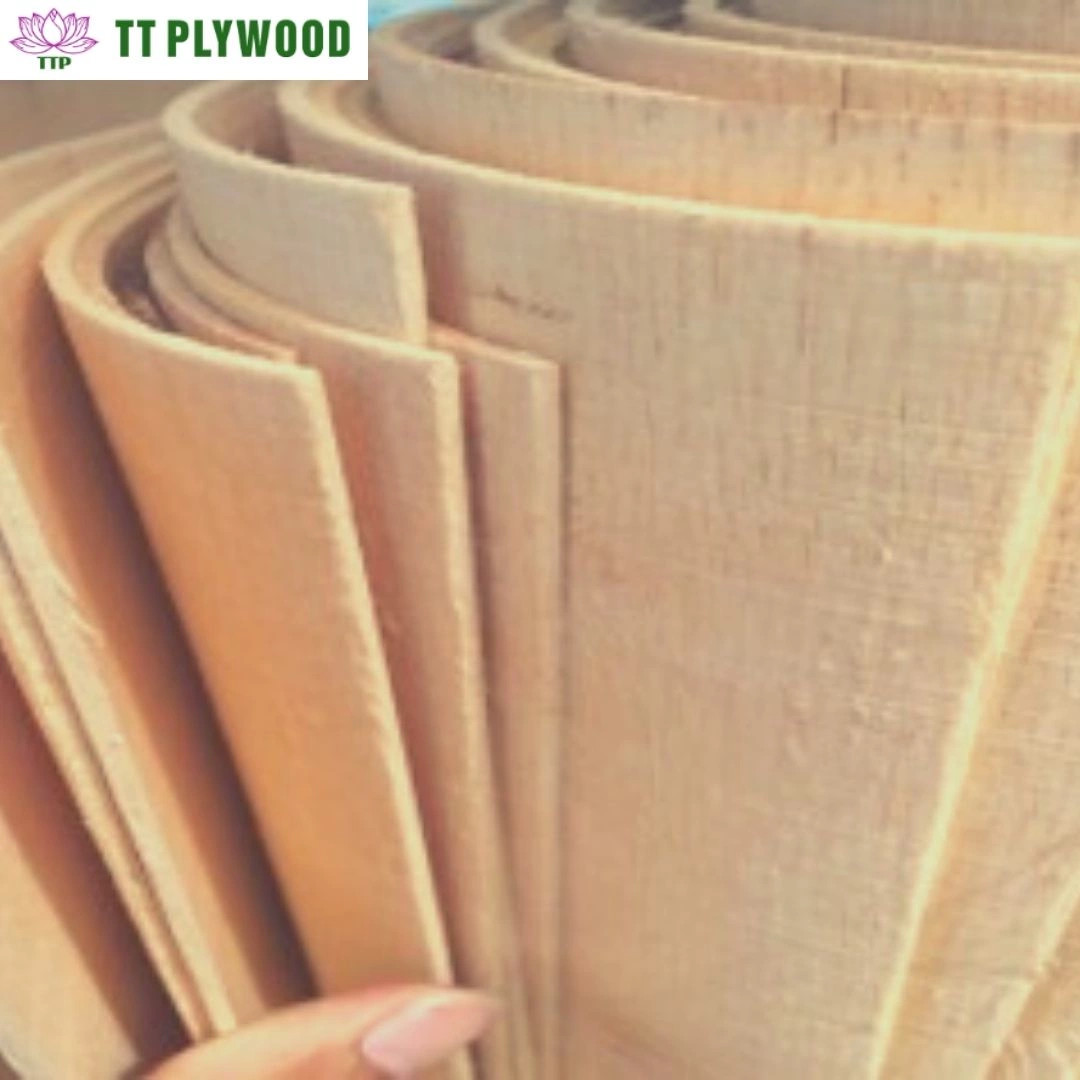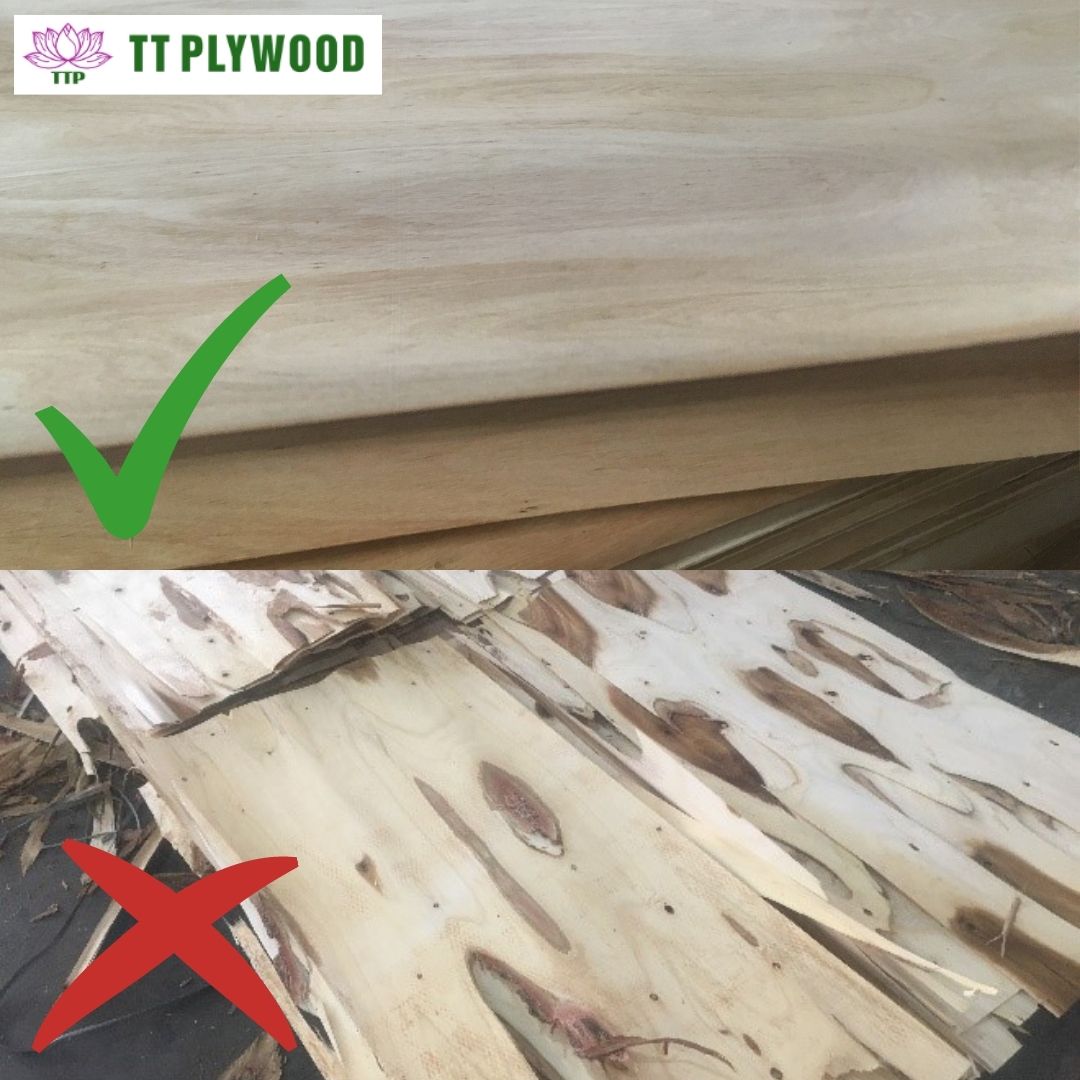 - The quality of the film faced plywood greatly depends on the quality and characteristics of the raw materials made it; therefore, before being put into production, veneers have to be checked and classified carefully to 100% A grade( which is full sheet of veneer, without knot, hole or ensure torn).
- Each veneer is very thin with thickness of 1.7mm to 2mm, and the standard moisture content for manufacturing must be below 20%.
- The standard veneer sheets will be thinly staggered at both ends. This process is considered as one of the difference of our factory, so that when stacking the veneers together, the stacked part is not too thick.
- The standard veneer sheets will be thinly staggered at both ends. This process is considered as one of the difference of our factory, so that when stacking the veneers together, the stacked part is not too thick.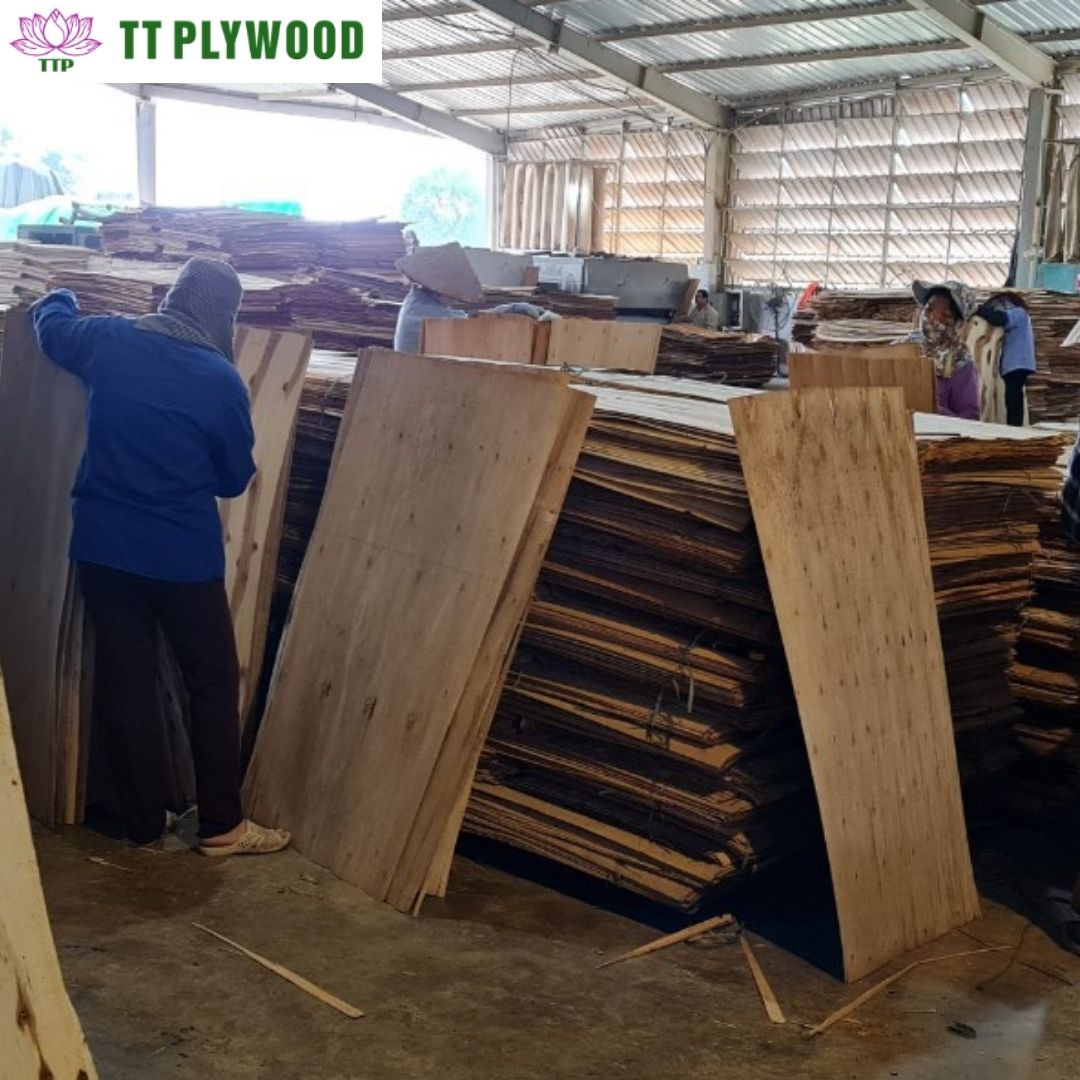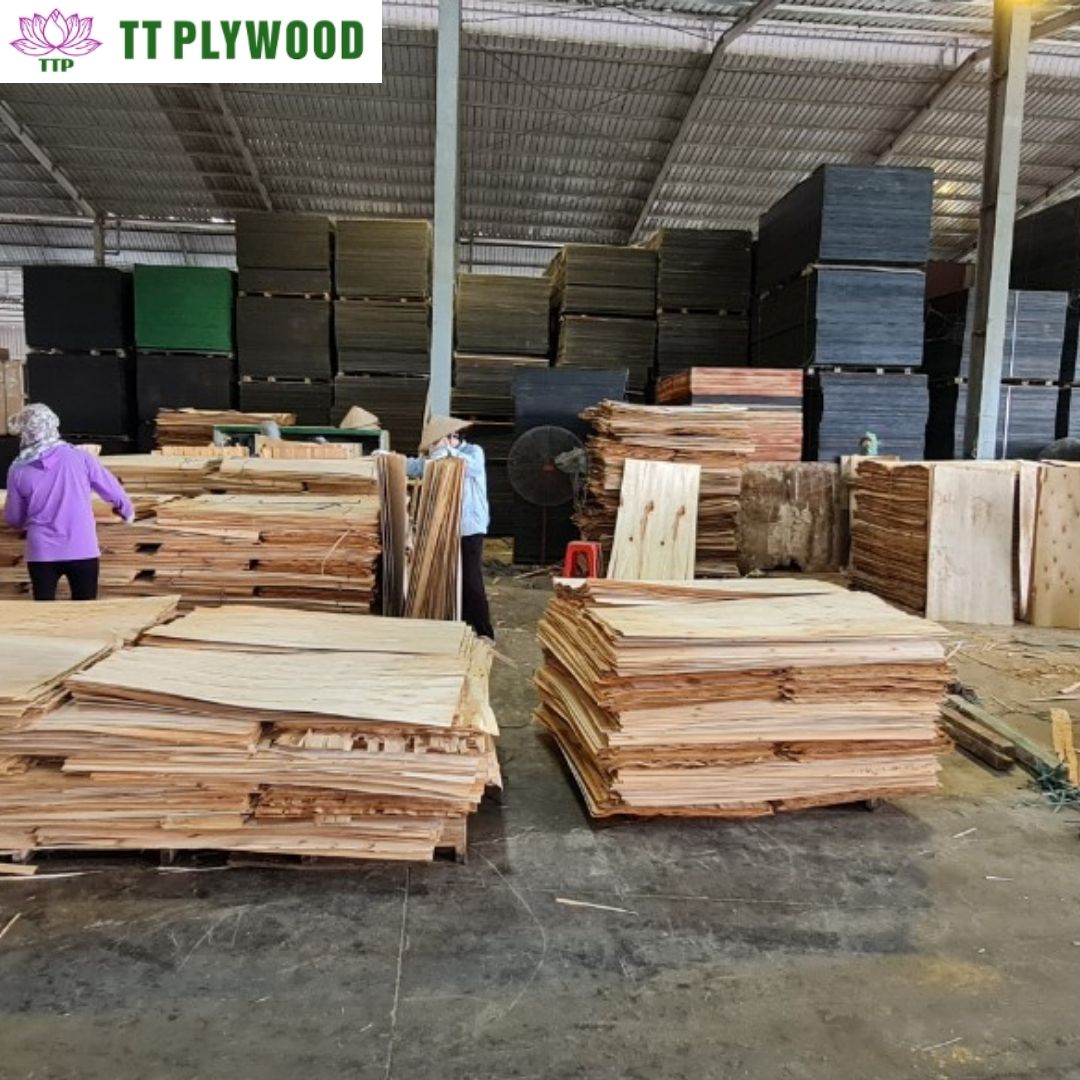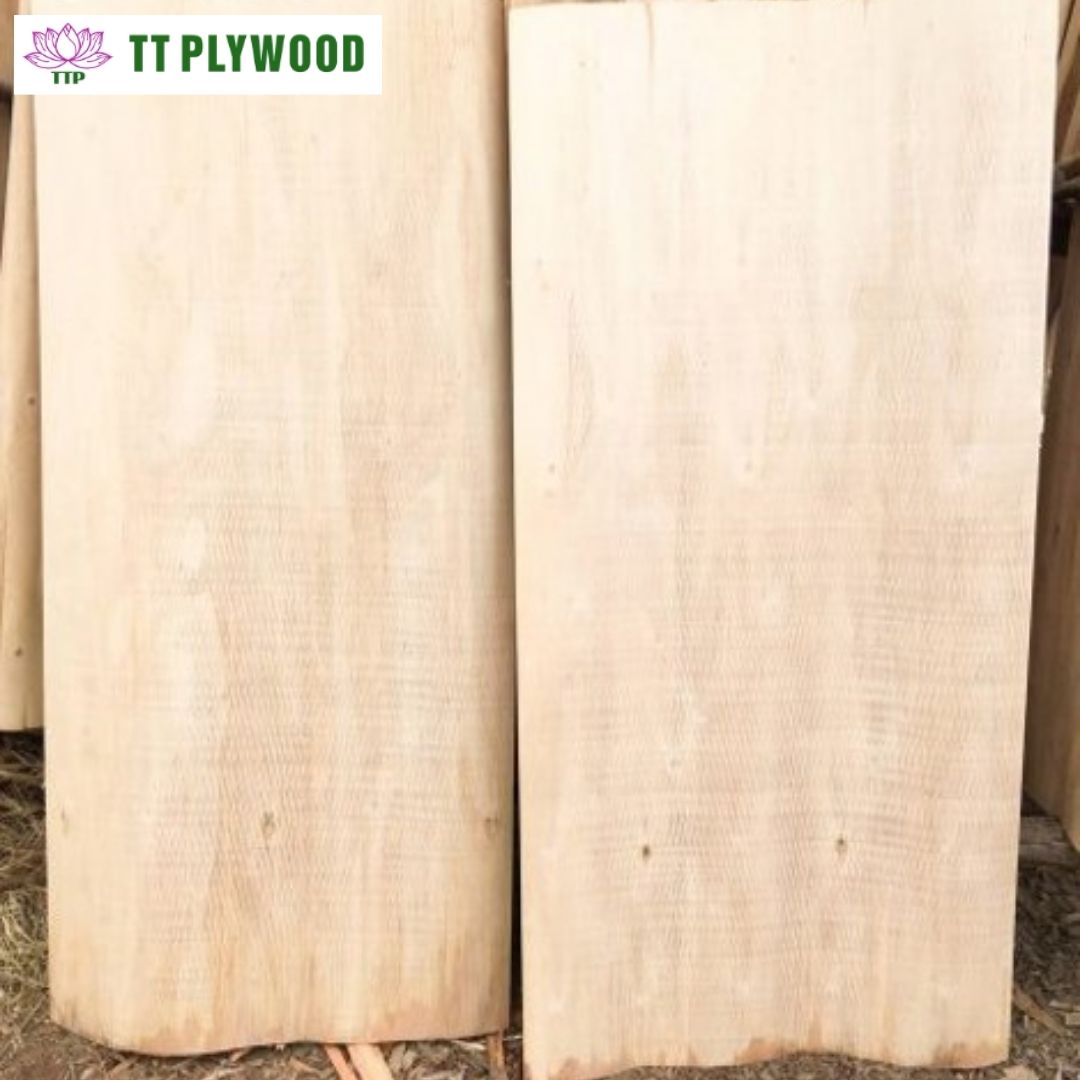 2. GLUE SPREADING
- The veneer is spread by glue rolling machine one by one so that the glue is evenly adhered on both sides of the veneer.
- Besides core veneer, glue is also a decisive factor in making the plywood structure bond together strongly. The type of glue our factory use contains 18% melamine, which helps our film faced plywood sheets can resistance under water boiled up to 12 hours and be re-used 12 times.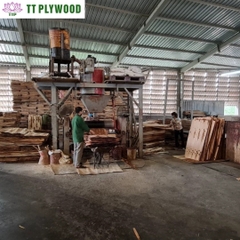 3.VENEER LAY-UP
- Layering is very important, it can be considered as an art, because if the veneers are not properly arranged, the finished plywood becomes weak, easily warped and broken.
- Skilled workers alternately put the glued layers and the dry layer, 1 layer vertically then the next layer horizontally in a long conveyor, to increase the elasticity and texture of the product. At the same time, each vertical layer will be attached with plastic staplers to fix the core veneers.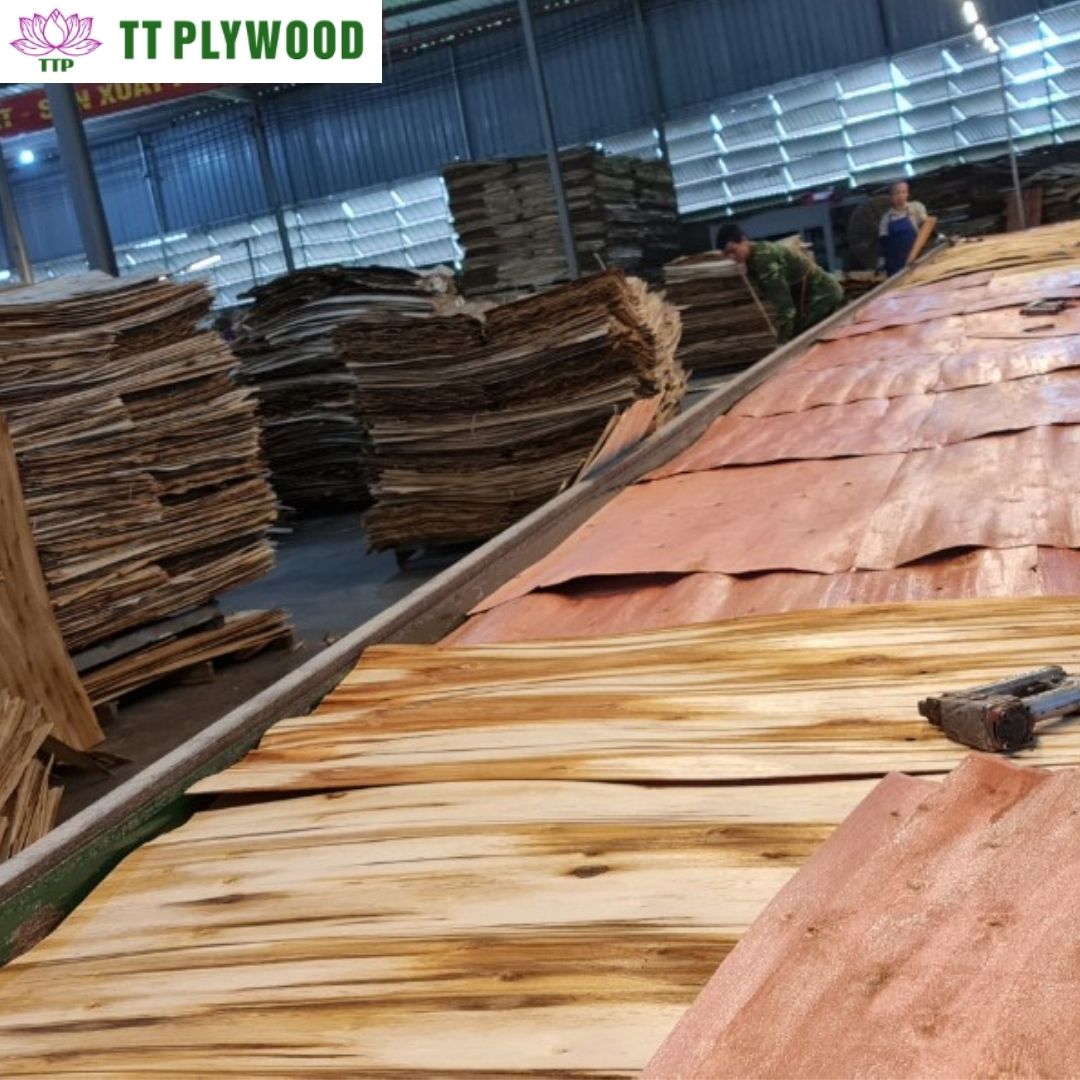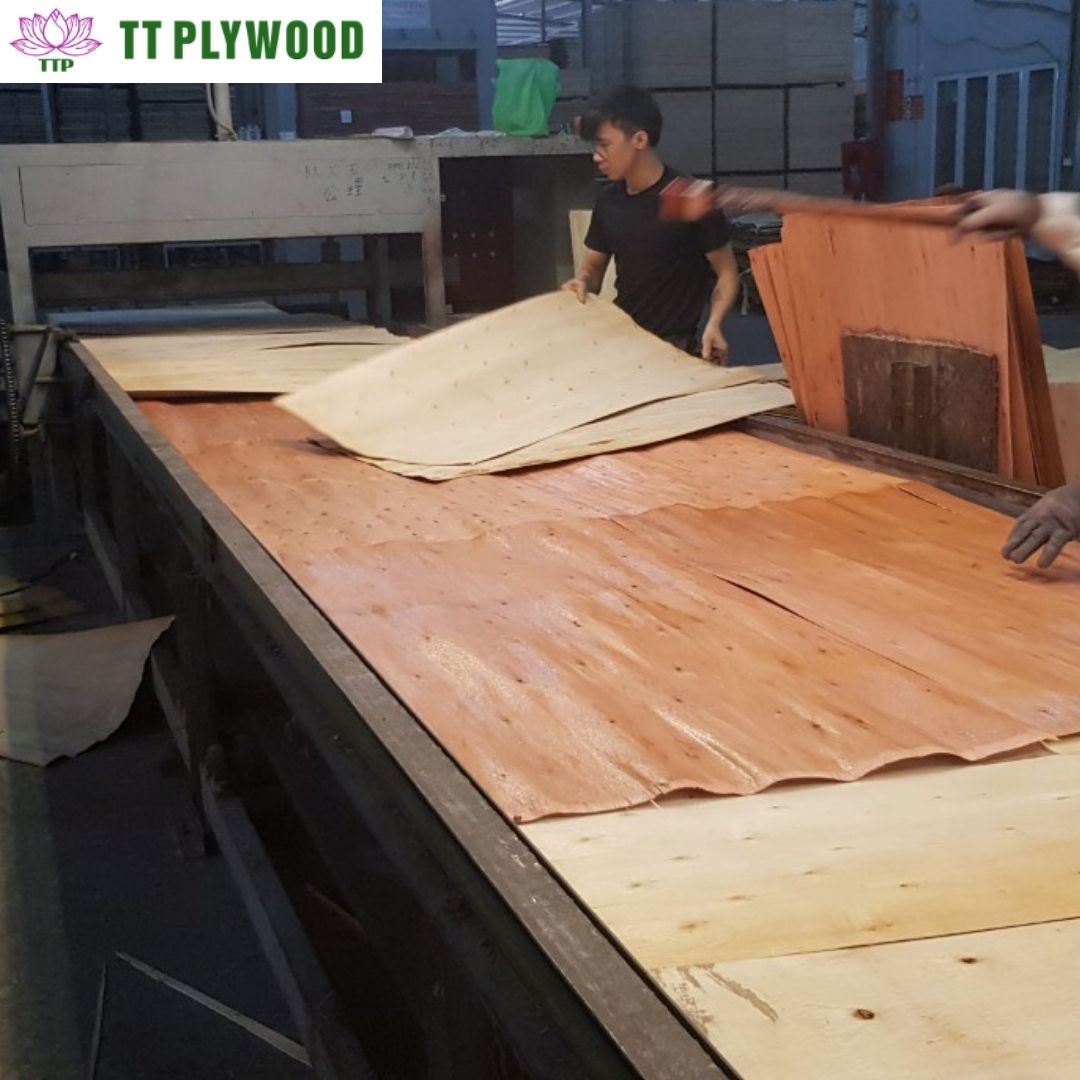 4. COLD PRESS
- Cold pressing for a period of 4-8 hours will help to shape the panels temporarily.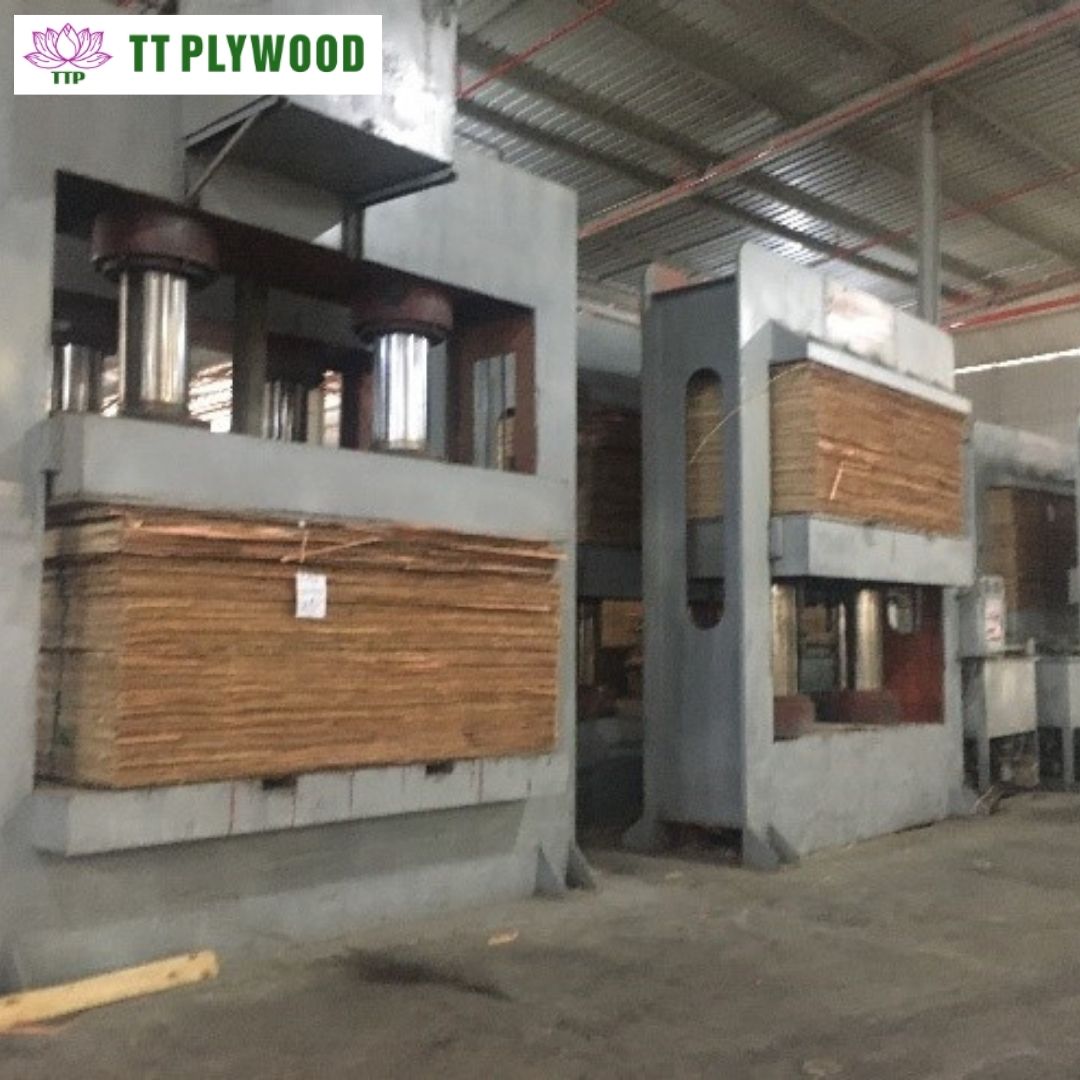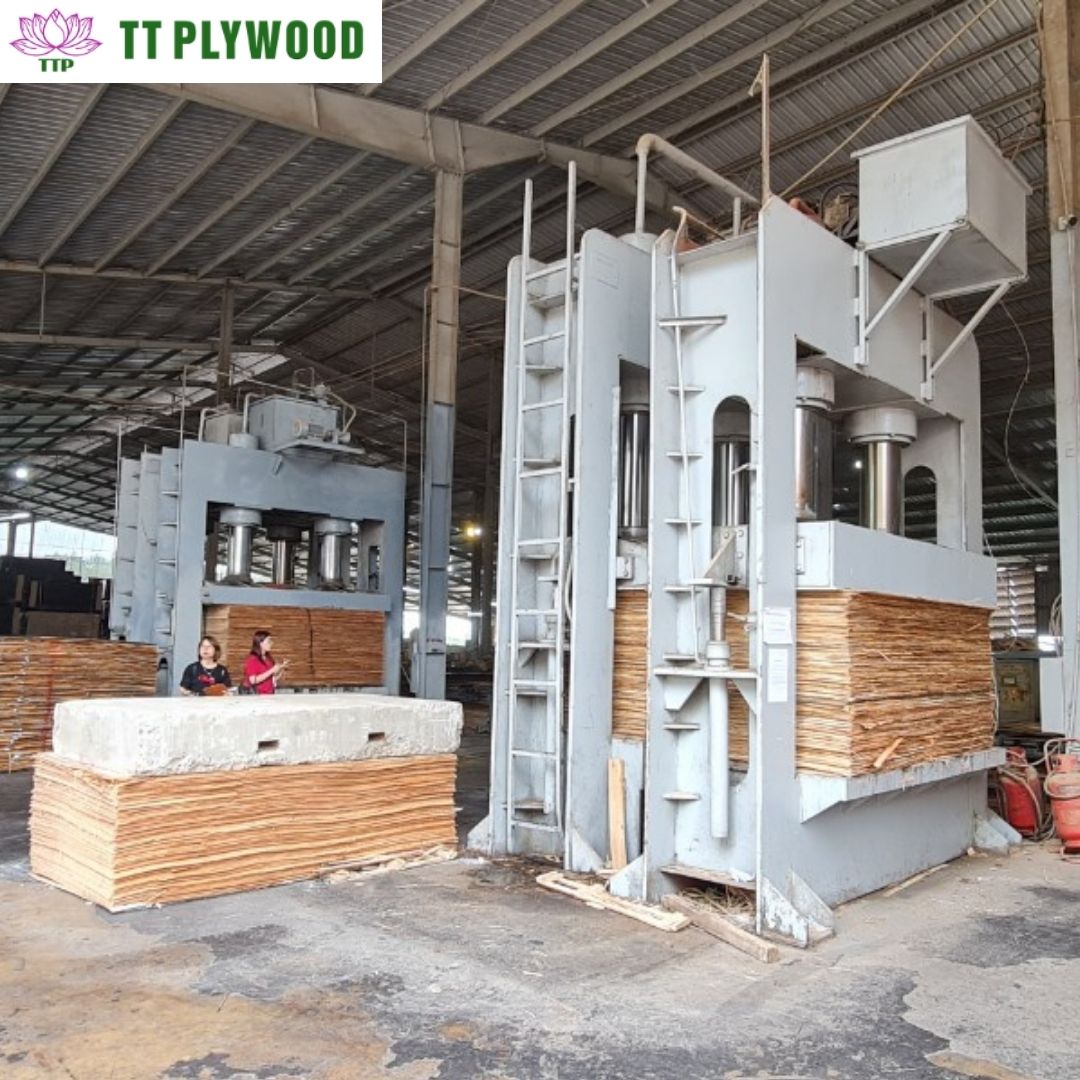 5. REPAIRING THE SURFACE
- After cold pressing, workers will use expertise techniques turn over the board, remove the excess wood at the edges and veneer overlap on the surface.

6. FIRST TIME OF HOT-PRESS
- Our factory is using hot press machine of the latest technology, with 6 cylinders for high capacity, stable pressing force, ensuring flat boards, quite accurate thickness.
- In turn, put the panels into each tray of the hot press machine, high temperature and pressure heat the glue to bond the veneer layers together and permanently solidify product structure.
- Hot Pressing time depends on the thickness, ranging around 20-40 minutes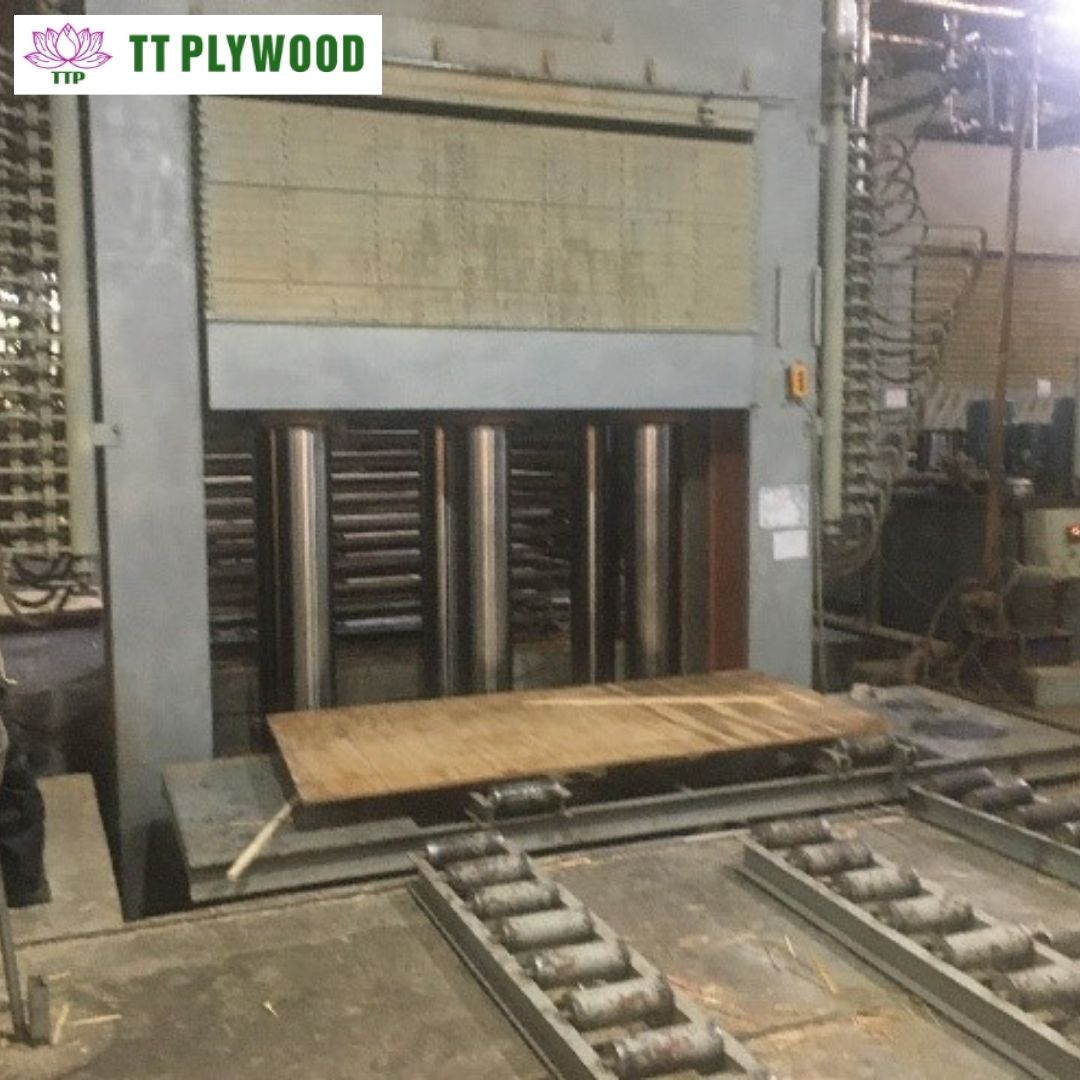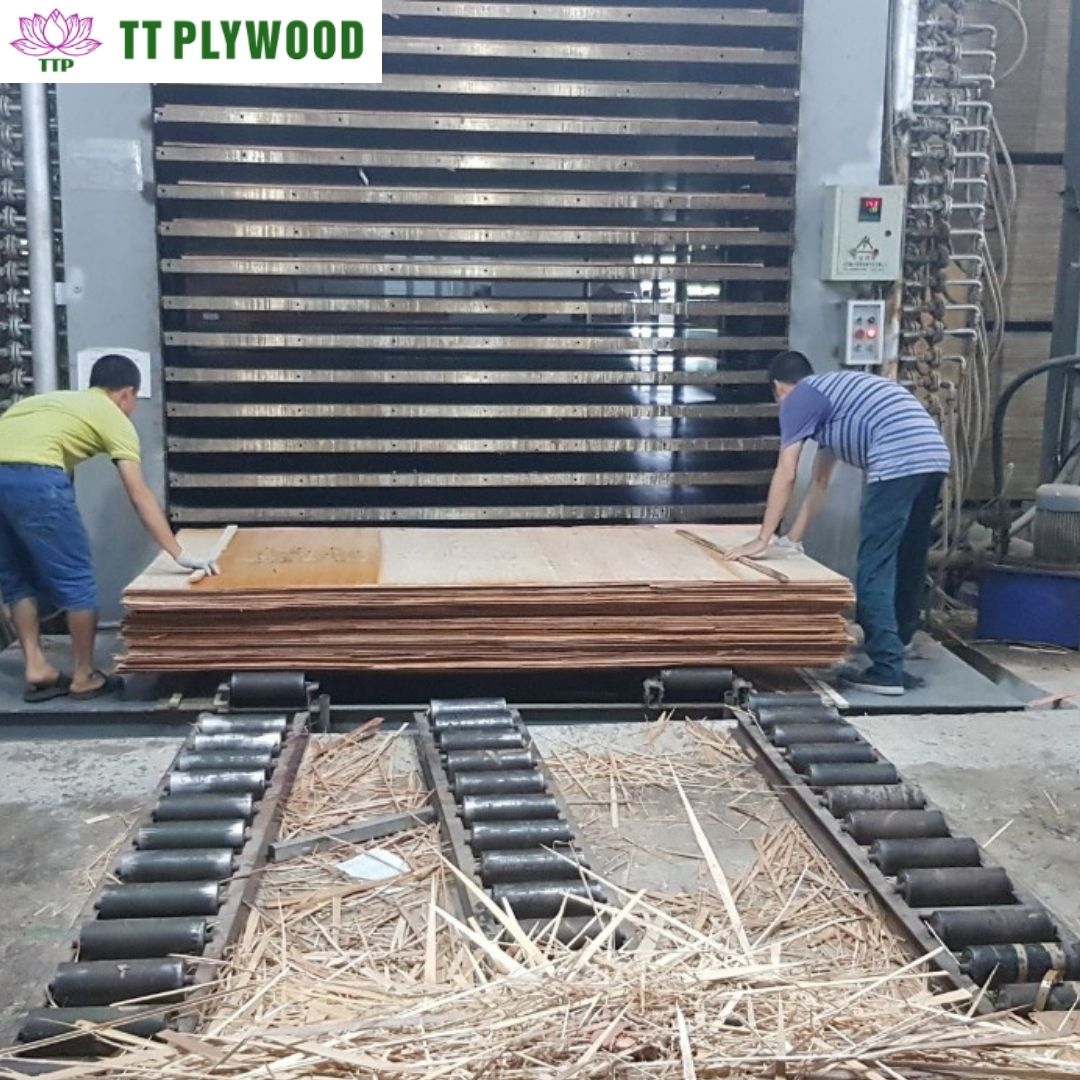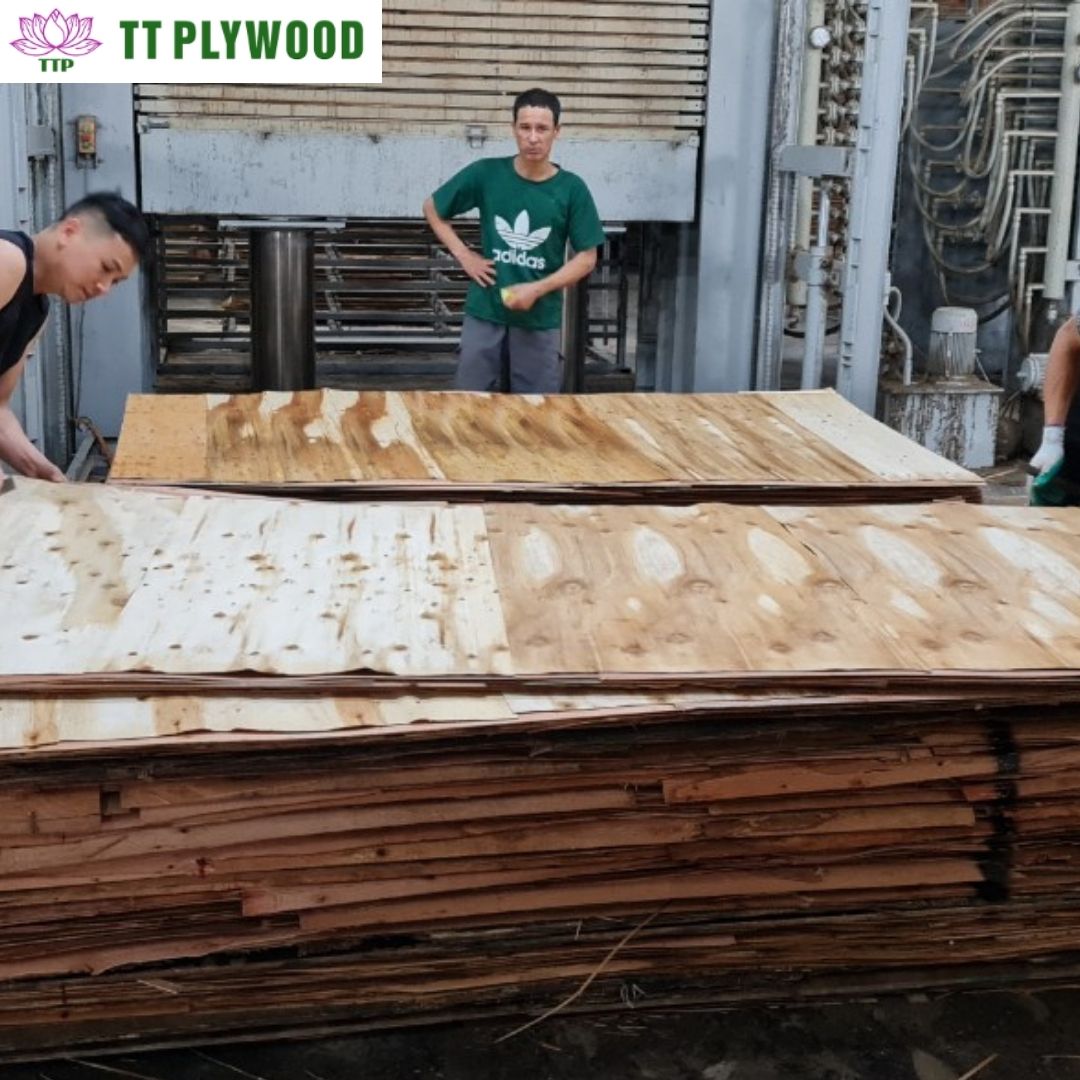 7. PUTTY THE SURFACE
- Workers will fill in the defects on the surface such as cracks or knots with specialized wood filler.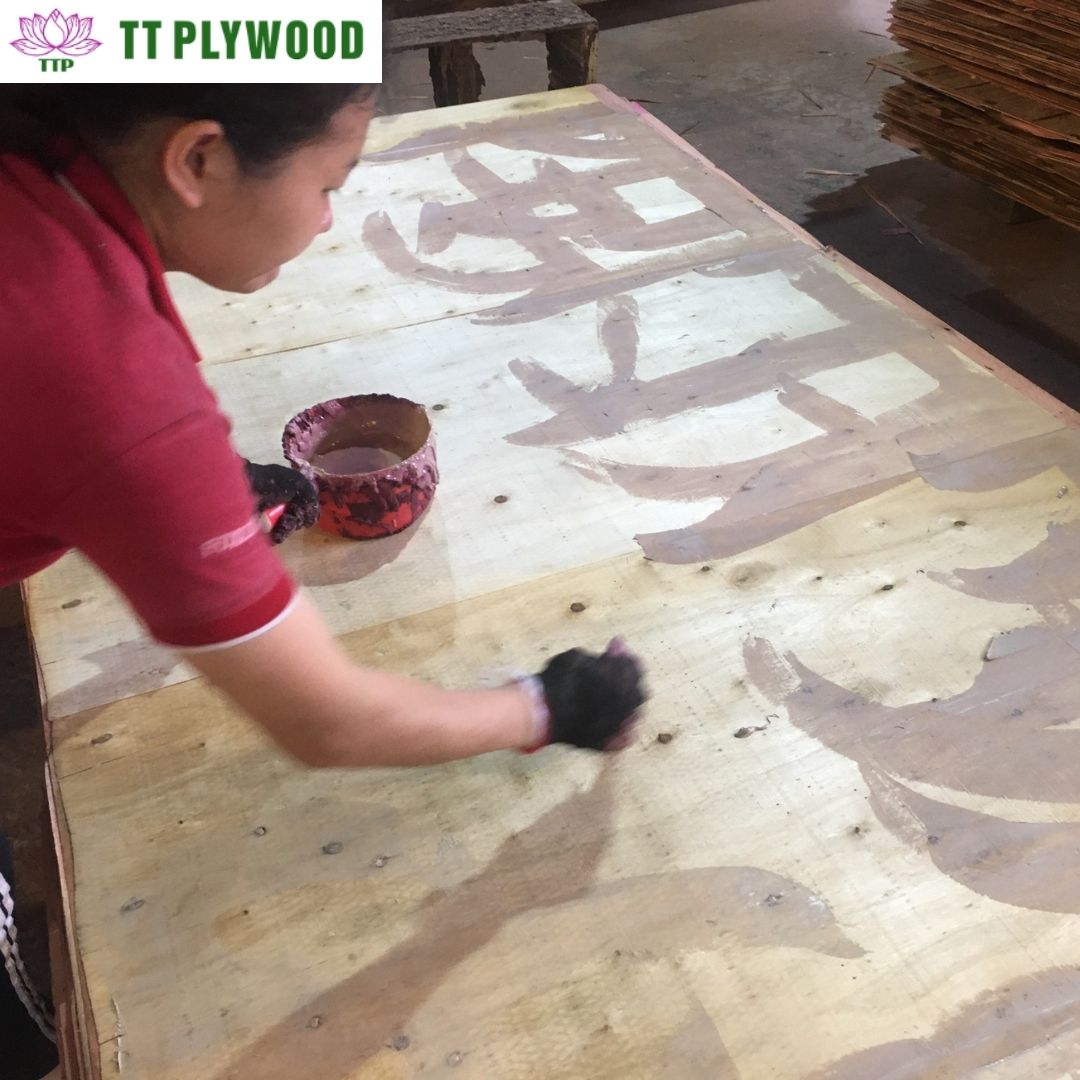 8. SANDING
- In order to make the plywood's surface smooth, TTP's factory always sands both sides of the panel by the sanding machine, each side is sanded 2 times to remove all rough and uneven part.
9. CUTTING TO SIZE
- The panels will be cut to the standard size as customer's request, the popular sizes of film faced plywood are 1220x2440mm, 910x1820mm.
10. FILMING
- All the phenolic film we use is high quality Donghwa Brown Film or Dynea Black Film imported from leading reputable manufacturers in the world. Customers can choose plain film or film with logo printed TTP, DUC LAM,.....
11. THE SECOND TIME OF HOT PRESSING
This second hot pressing takes less time than the first time, only 2-3 minutes because this step is to stick the film on the surface of the board. The durability and aesthetics of the plywood depend a lot on this stage.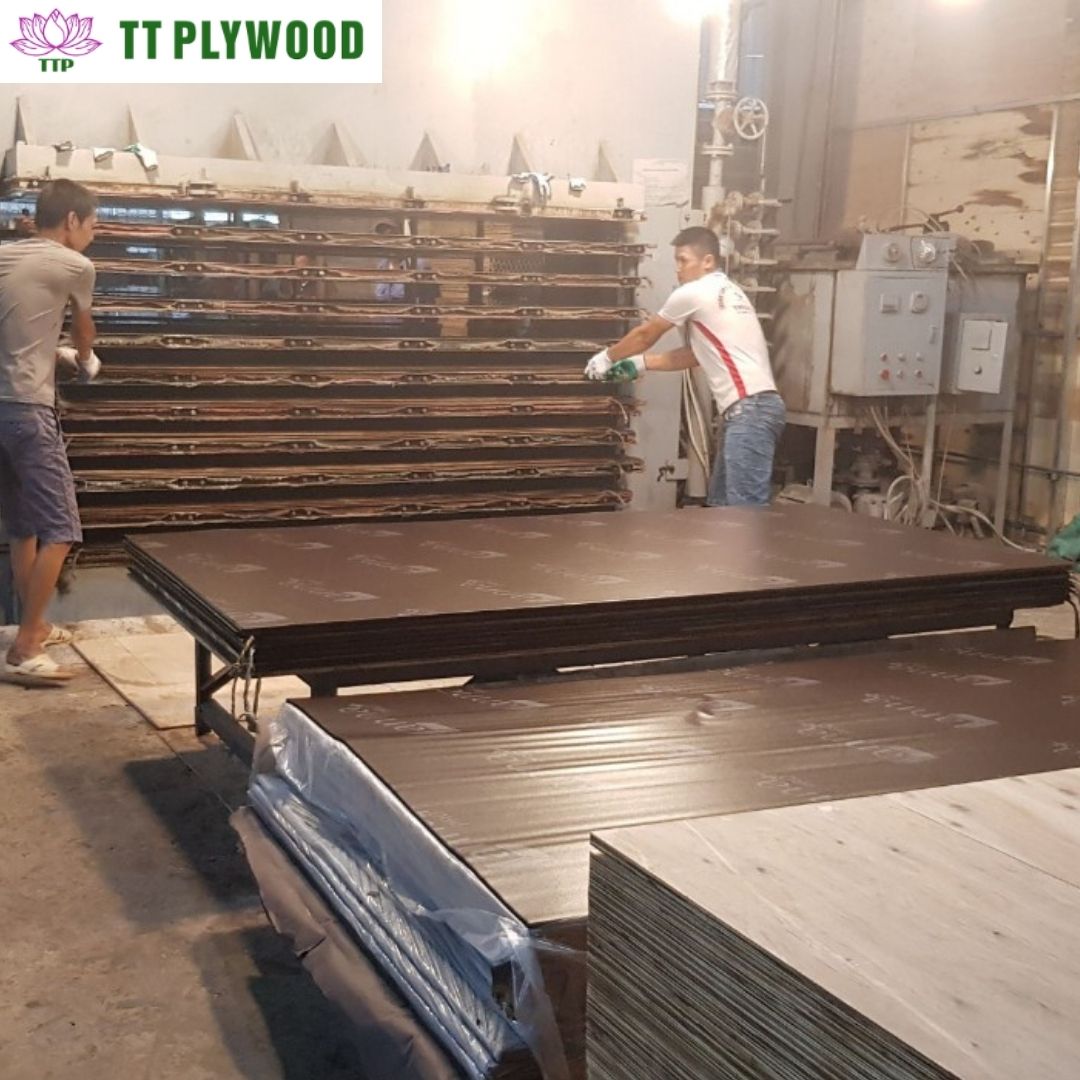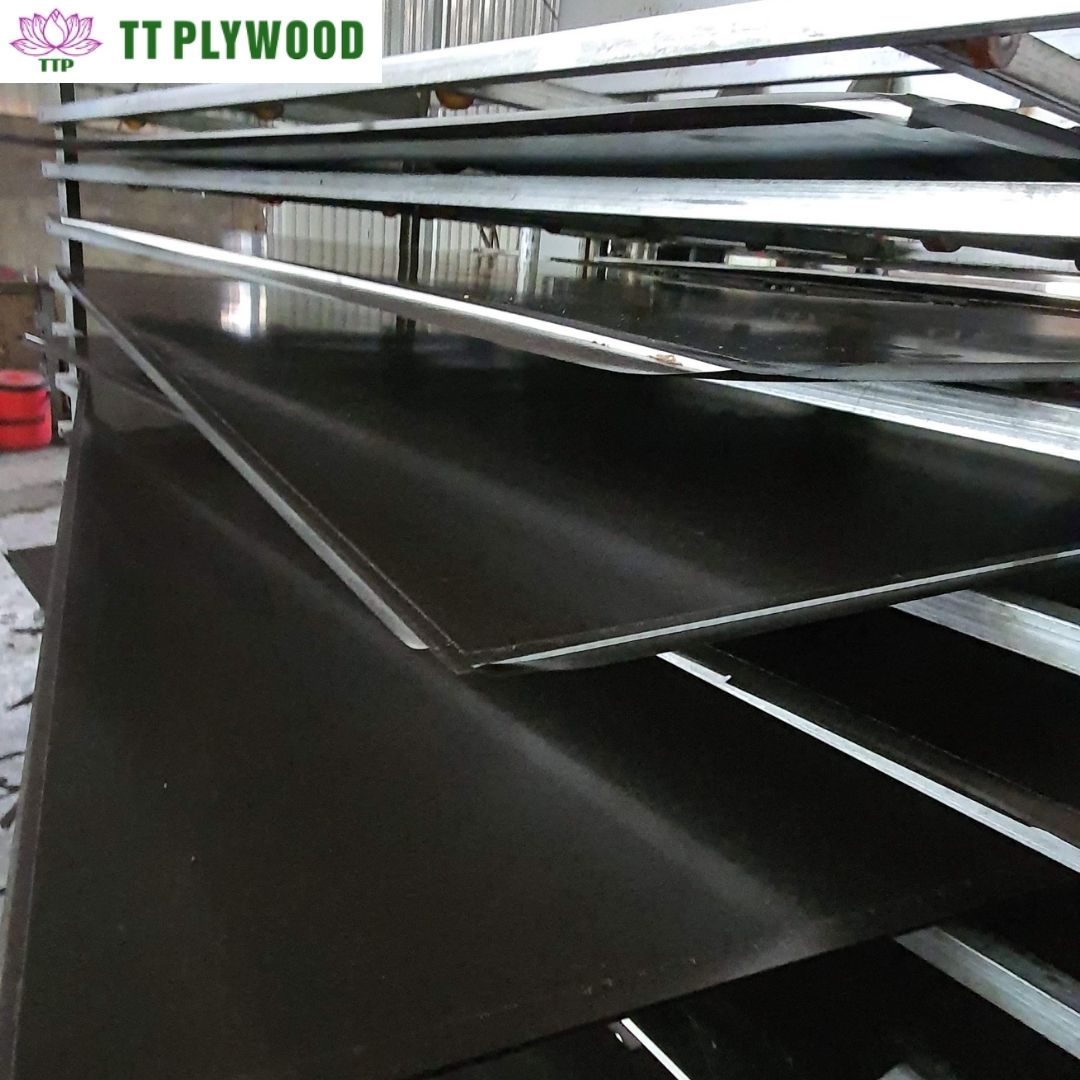 12. INSPECTING QUALITY
- The plywood after being putting out from hot press machine will be removed the excess film at the edge by the worker.
- Meanwhile, all the sheets will be inspected by our experienced QC team one by one to assure the cargo delivered to customers will be qualified about surface, structure, dimension, moisture content and consistent in quality. Boards with even small defect will be rejected.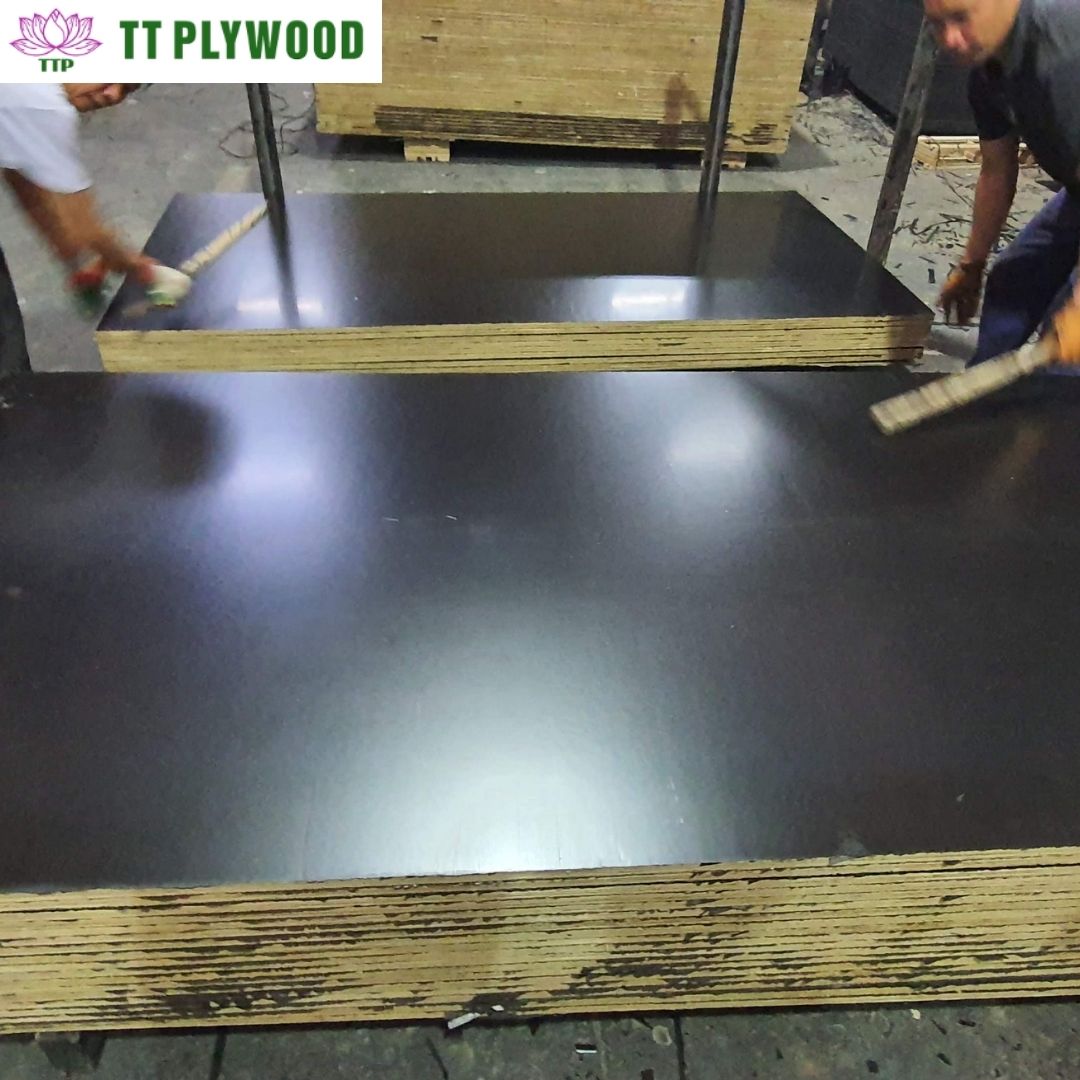 13. EDGE TREATMENT
- Four edges of plywood are then treated with waterproof paint to resist environment humidity.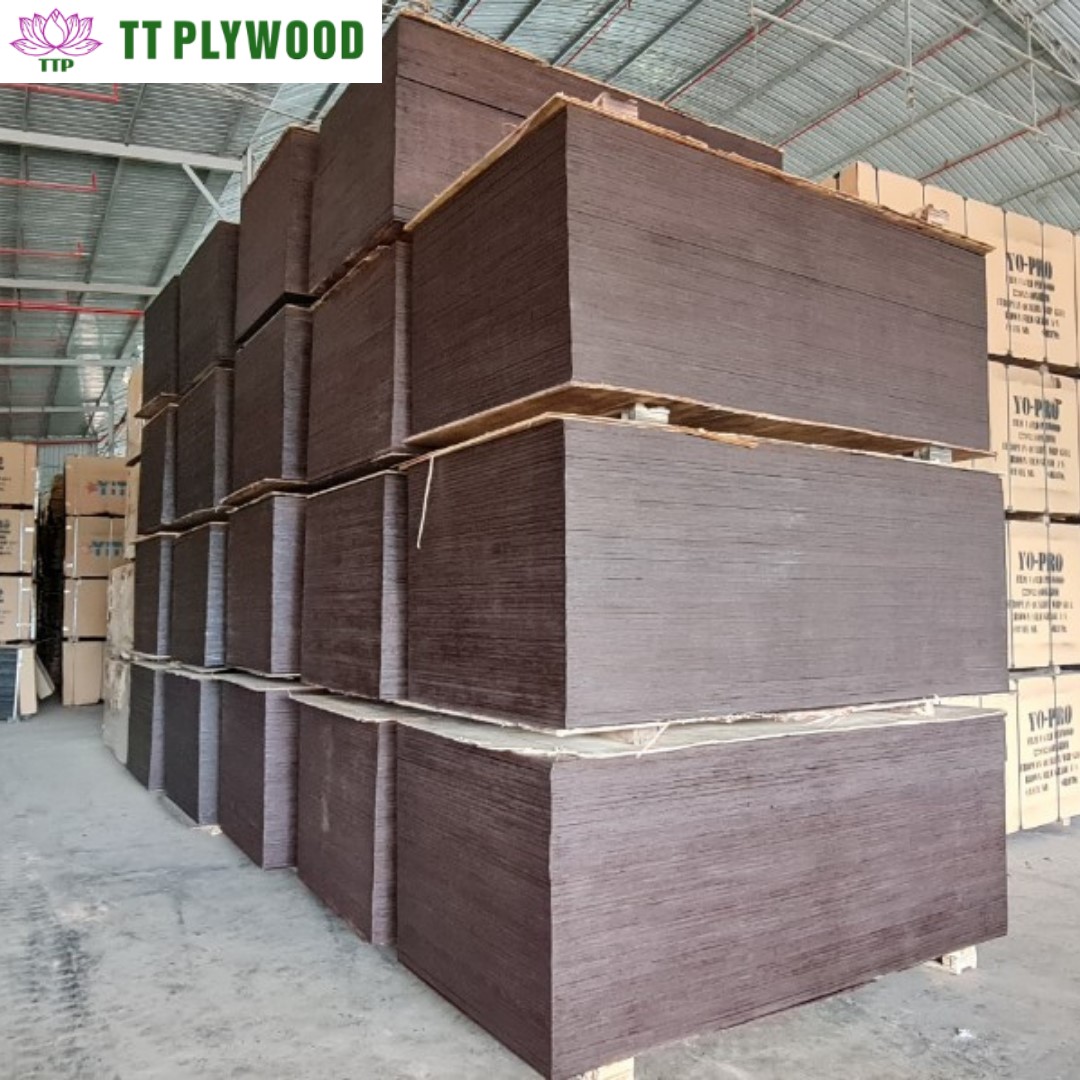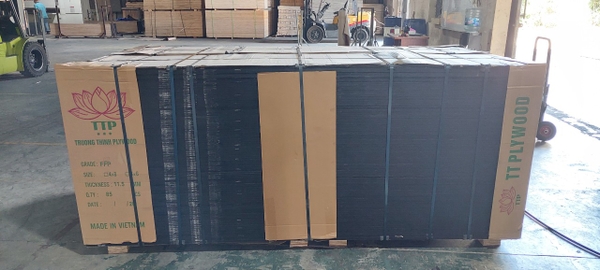 14. PACKAGING
- Film faced plywood sheets are packed into a bundle as export packaging standard for each market.
- Four sides of bundles are covered with carton and a layer of nylon on the outside, tied with strong steel straps, put on the pallet, which protect the product during shipping by sea.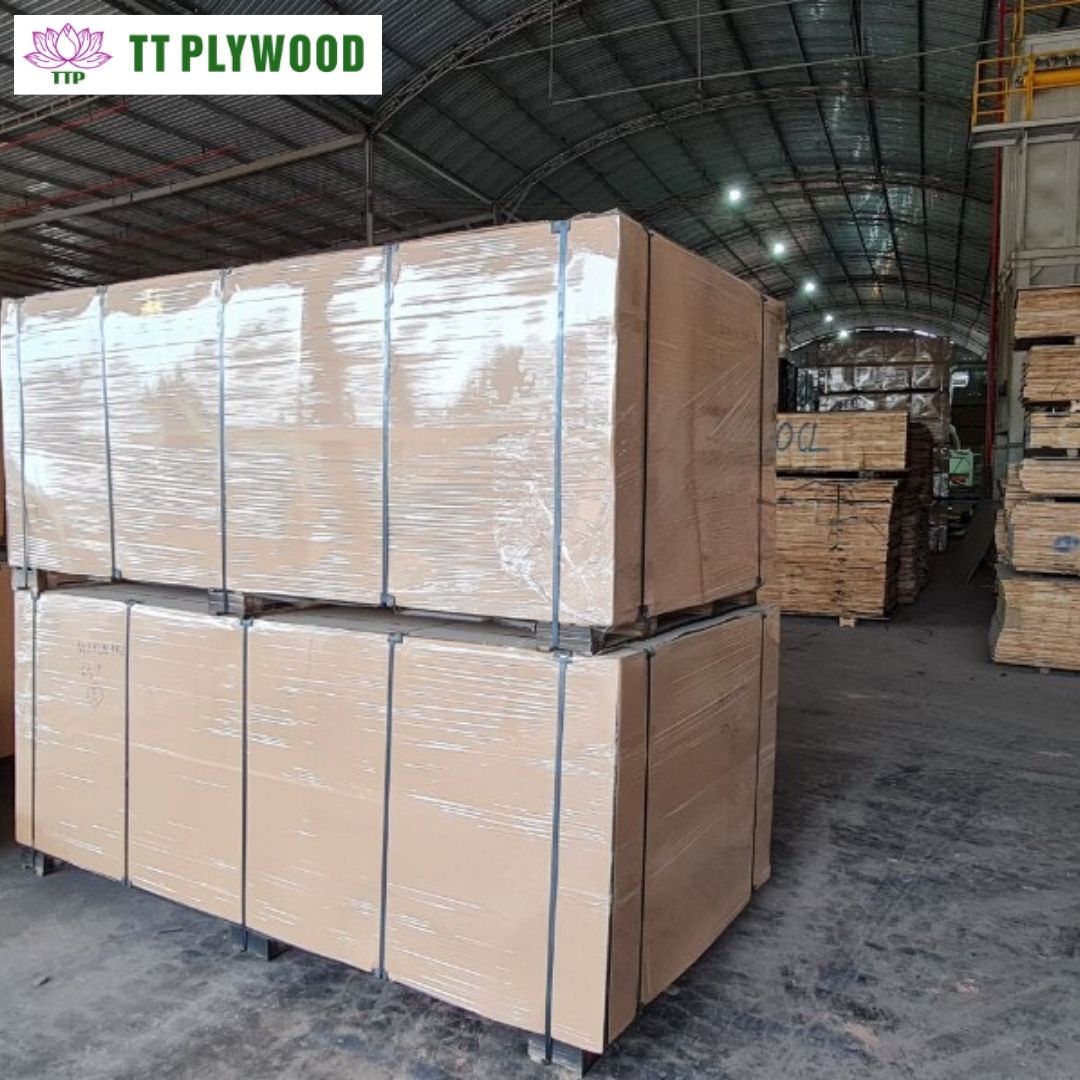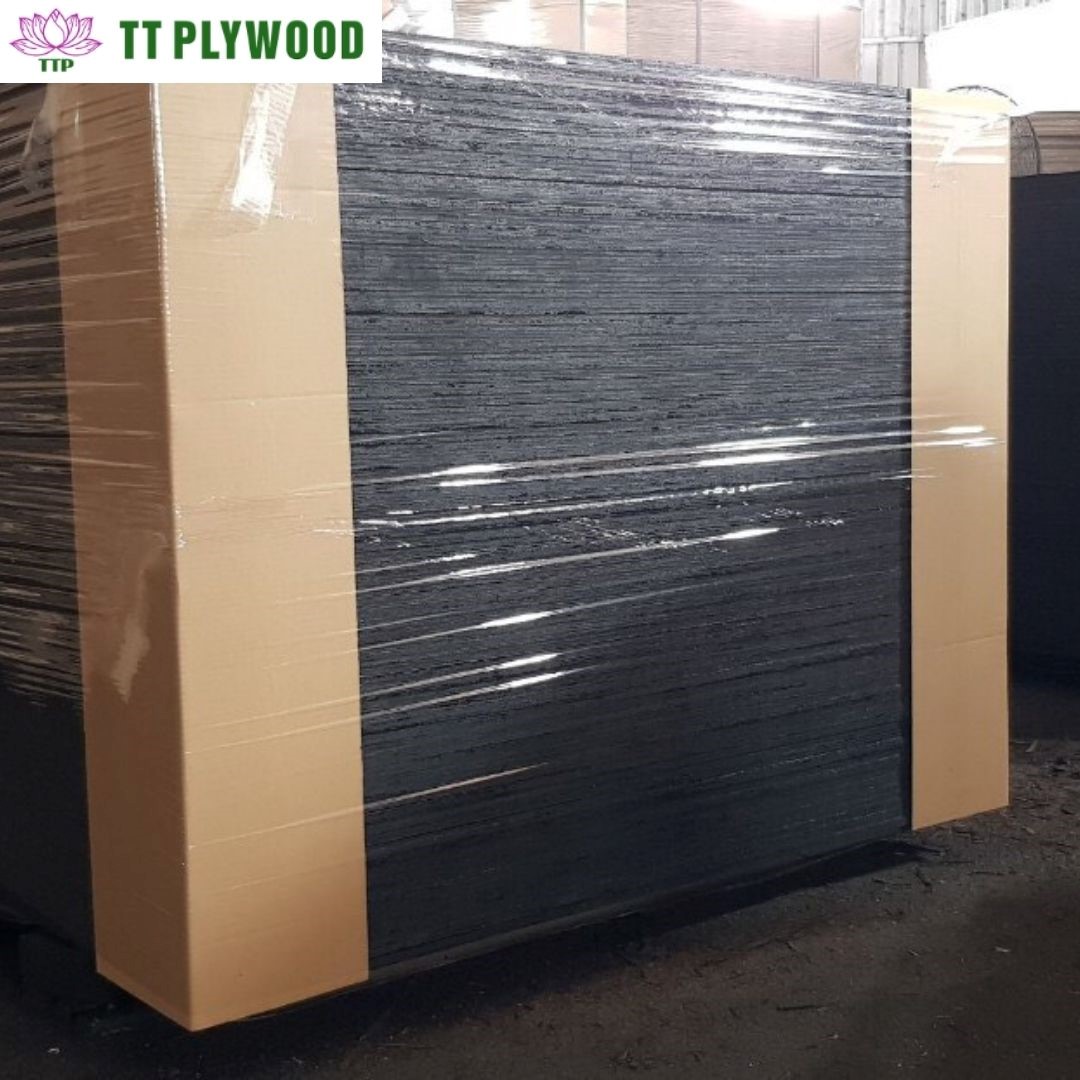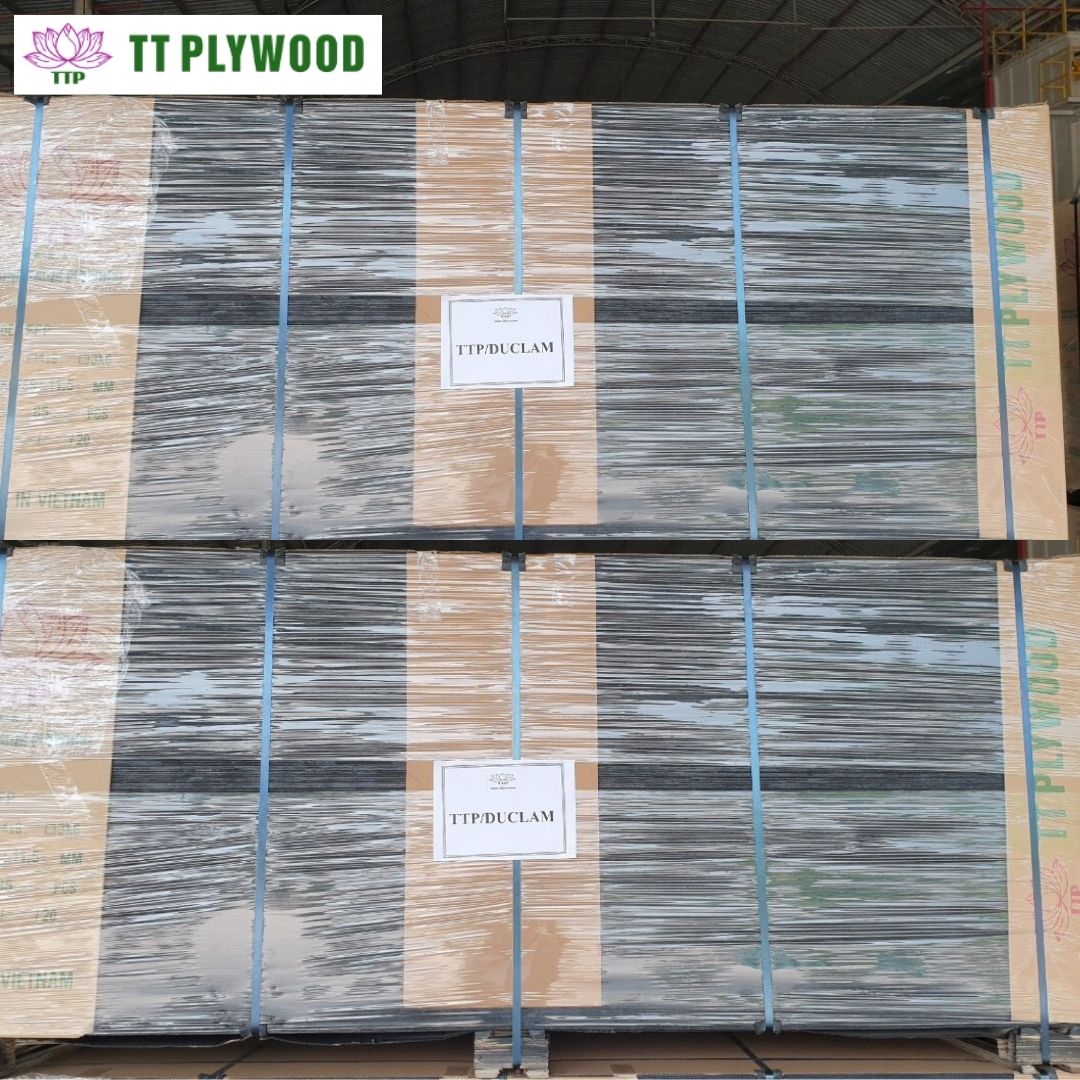 - Finally, these packages will be stored in a spacious and dry warehouse, ready to be loaded into containers for delivery to customers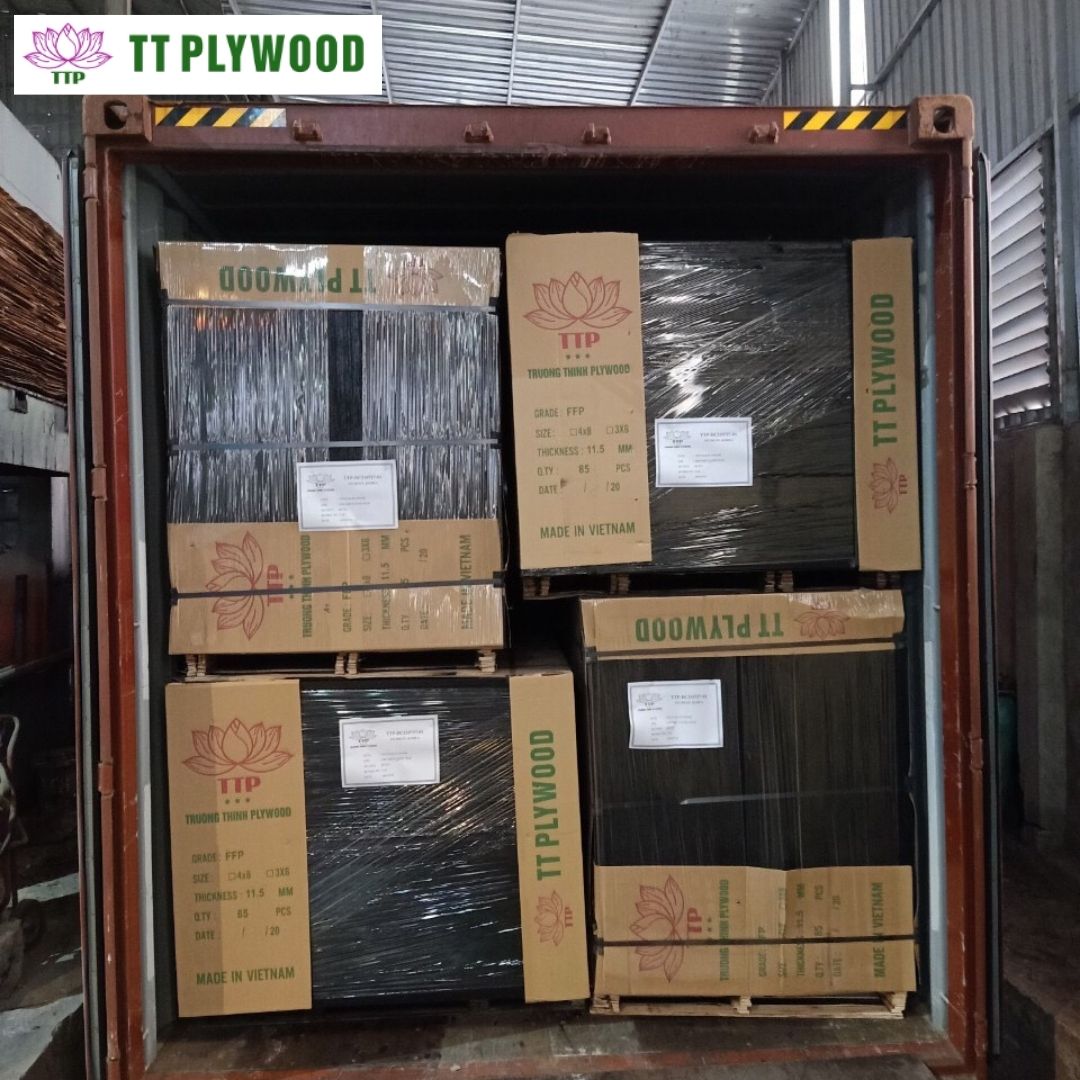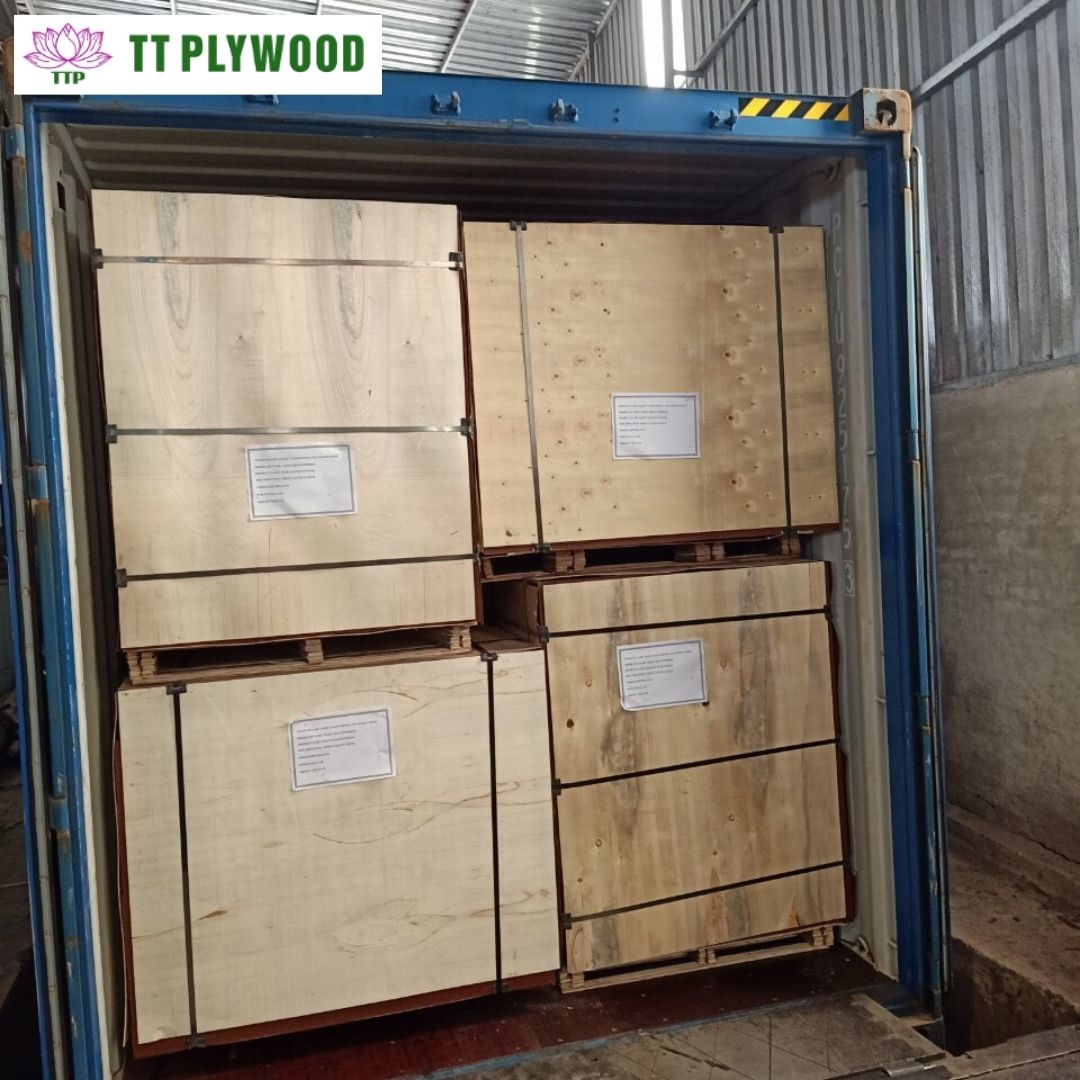 APPLICATION OF FILM FACED PLYWOOD
1. BUILDING AND CONSTRUCTION
- Thanks to its increased stability and moisture resistant ability, film faced plywood is perfect for making formwork in construction. The phenolic film layer and acrylic edges make it long lasting and hardly distorted in harsh weather and adverse conditions.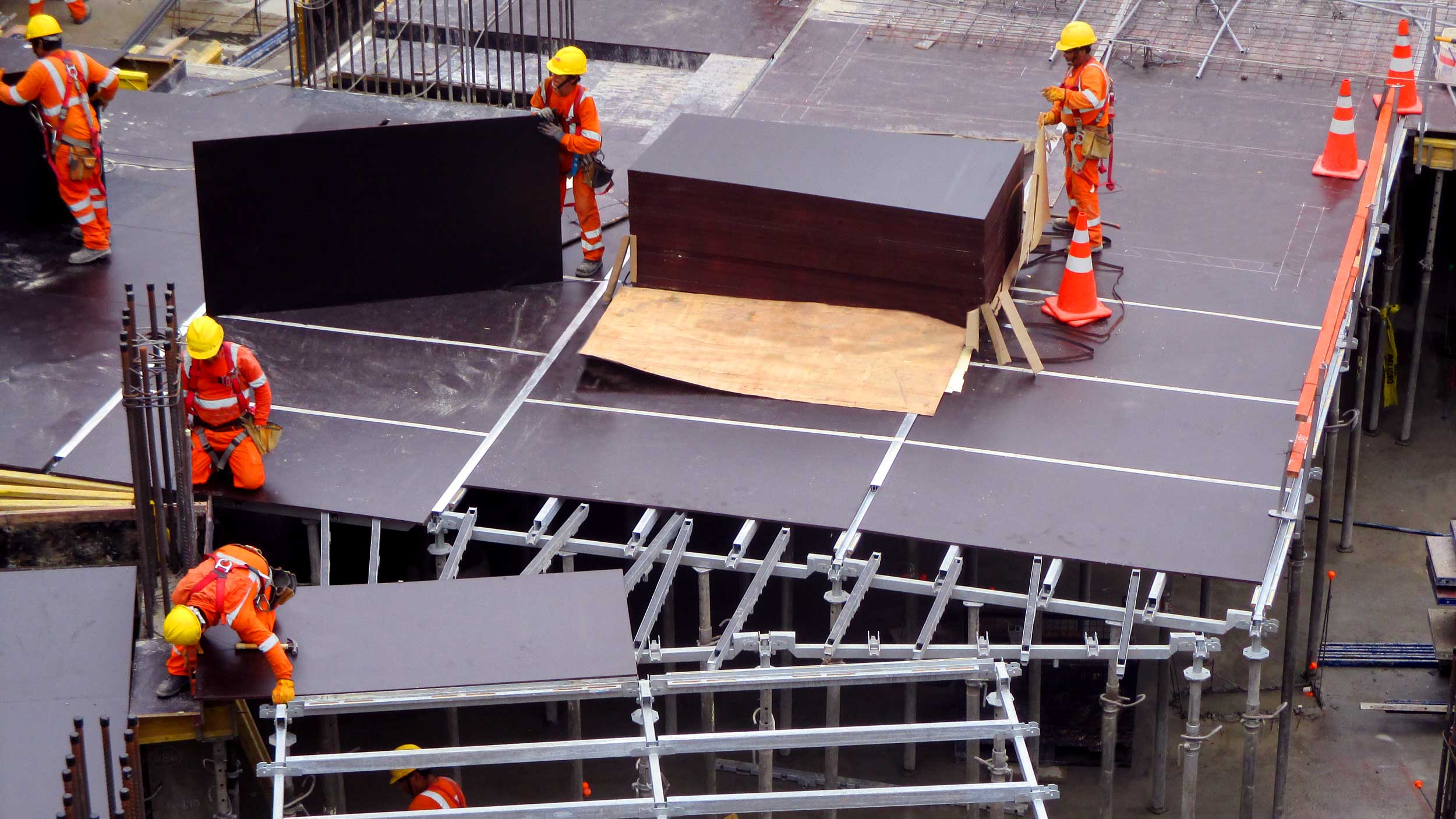 2. SHUTTERING BOXES
- Film faced plywood is recommended for shuttering boxes because of the water resistant ability.
- A shuttering box made from film faced plywood is long lasting, even under the sunlight. Moreover, it can be reused many times, which saves money as well as keeps things safe.
3. SHIPBUILDING INDUSTRY
- In some cases, film faced plywood is also known as marine plywood. It is made from high quality hardwood, waterproof melamine glue and has light, firm, undefected feature. These qualities make this kind of plywood become a popular choice for boatbuilding, shipbuilding, vessel, container floors and ship parts.
4.

FURNITURE

WHY WE SHOULD USE FILM FACED PLYWOOD ?
1. CHEAP PRICE
- On the market today, there are many types of materials for making concrete molds such as: steel formwork, aluminum formwork, bamboo formwork, plastic formwork, etc. However, film coated plywood is still preferred because of the price while still ensuring the quality of the work.
2. MINIMIZE MATERIAL LOSS
- Using film faced plywood helps to save materials and reduce loss significantly. Thanks to the closed joint surface, this formwork forms a very solid fixed mold, retaining almost all of the poured concrete without flowing out. In addition, the amount of nails needed is also less than usual, avoiding waste while ensuring quality.
3. ENSURE AESTHETICS
- After dismantling the mold, the surface is smooth and flat. In particular, with TTP's film-coated plywood, thanks to its very good waterproof coating, it creates a smooth, smooth, scratch-resistant surface. After pouring concrete you can proceed to paint directly.
4. EASY TO TRANSPORT
- Film-coated plywood has light weight and good anti-stick ability, so it does not stick to concrete after dismantling, facilitating the safe and easy transportation process.
5. SUSTAINABLE WITH TIME
- Good quality film-coated plywood can be reused up to 12 times. In addition, this is a material made from wood planks that have been processed and treated with chemicals, so it will not warp or crack.
6. EASE OF CONSTRUCTION
- If the construction of columns with high height using ordinary formwork will be very complicated. Or civil housing projects, often with columns located close to the wall next to the house, so only 3 sides can be assembled, wooden formwork boxes are difficult to match correctly. Using formwork plywood with a set of columns capable of sliding up and down along the column helps to reduce the time of molding and pouring concrete, can correctly match 3 formwork faces.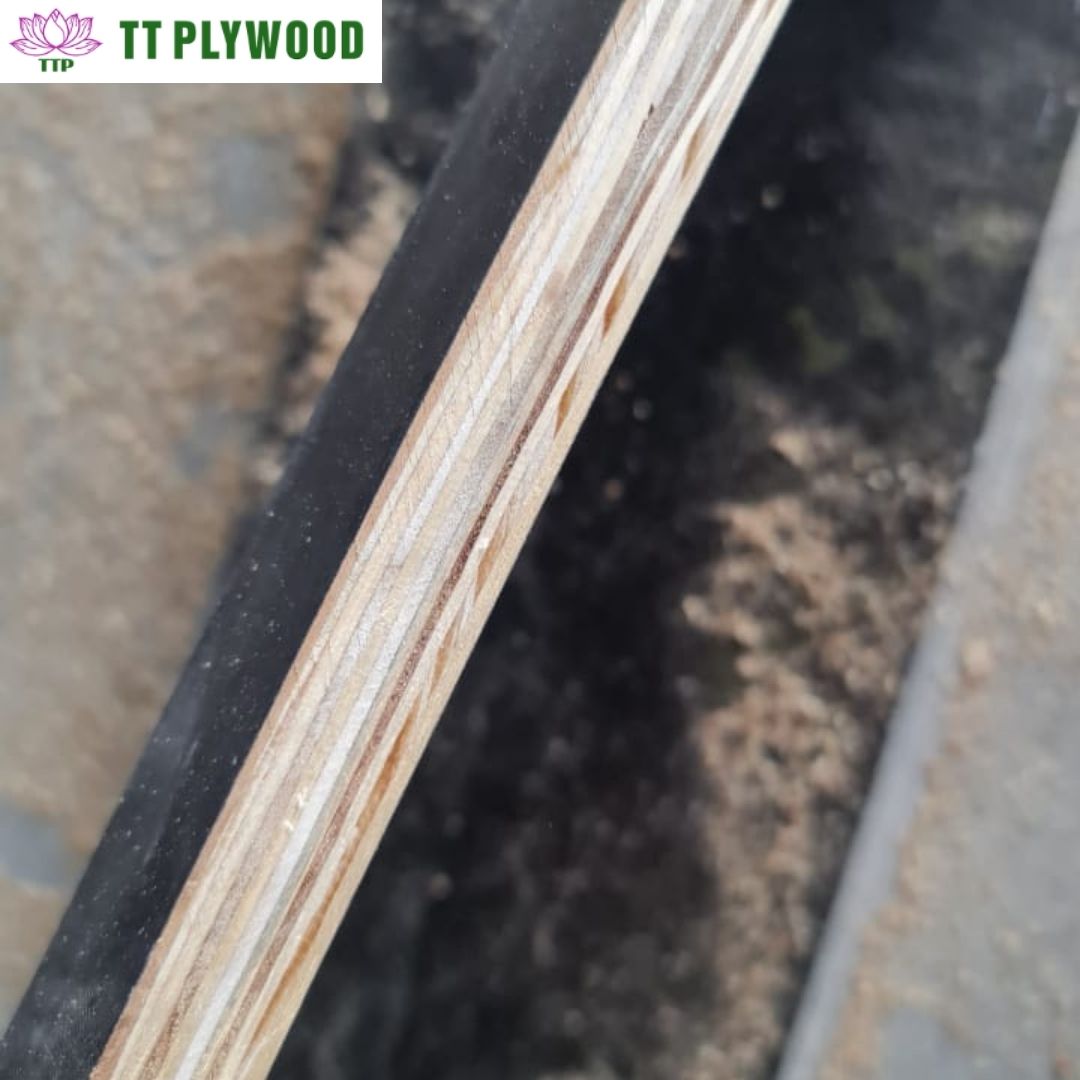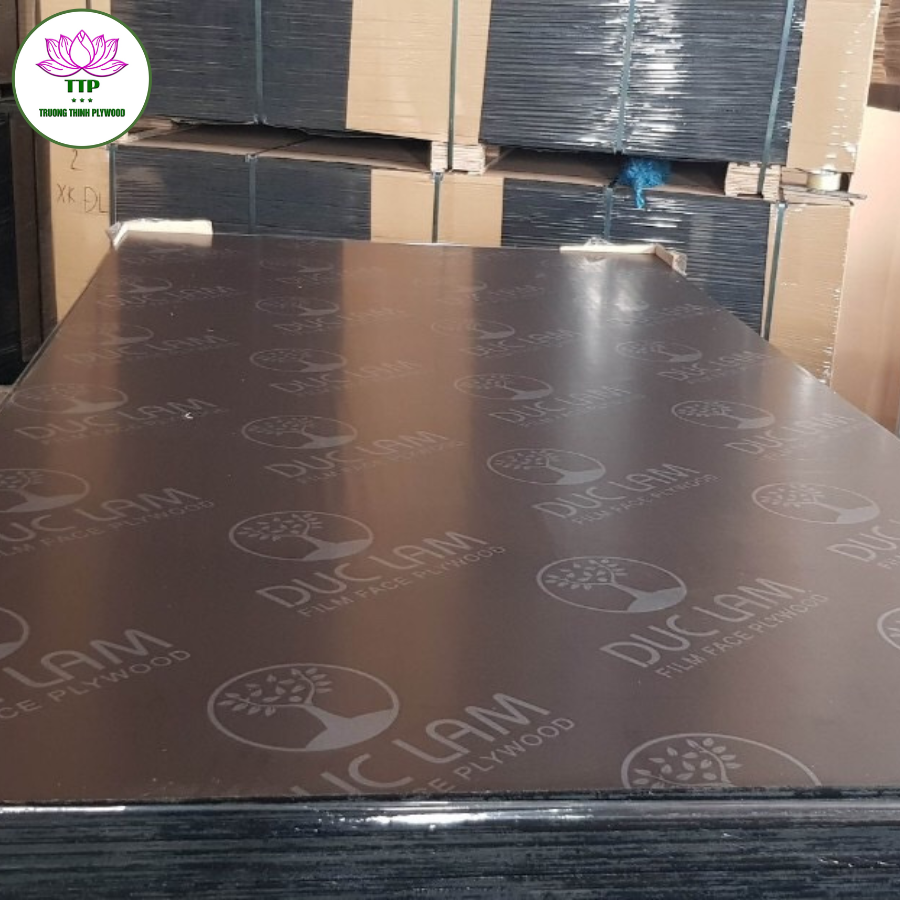 OUR QUALITY CERTIFICATION
During over 10 years in plywood industry, our company always try to serve our customer with most suitable and qualified products. Here are some certificates that indicate the specifications of our plywood, which has been exported to the US, India, Korea, Malaysia, Japan, etc.


If you are looking for a reputable supplier who can guarantee high quality, large volume and good price, please feel free to contact us:
Hotline/WhatsApp/Line/Kakao: +84 934 482 488/ +84 866 969 398
Email: sales@ttplywood.com
Website:
https://ttplywood.com/
Alibaba:
https://ttplywood.trustpass.alibaba.com